Early Childhood Education and Care courses
Our Students
OLA is unique creative approach to the cert 111 and diploma of early childhood, in addition to the standard nessersary teachings it draws on bush schooling, Steiner inspired teachings and creative movement taught through qualified teachers. I always enjoyed my OLA classes and felt very supported through the course.

Katie
Organisational Learning Australia (OLA) is the best place to study early education and care because of its method.Its method will hone you to be one of the best educator that you can be. They will teach you how to dance, sing, do some arts & crafts, express yourself without judgement and knowing and being in nature. All of the methods or approach are well thought for the learning and development of every child. The Saturday class with Ms. Carol will open you to the different world of teaching and looking at each child. This class will also improved/change or develop your perspective in life. I'm so thankful with all of the trainers who are very supportive and sensitive to the needs of their students. I'm so lucky to study the course with these kind of trainers

Zairah
I am so happy that i studied at OLA.The course was not just about theory it also was very practical with many activities to learn from such as Art, craft, music,movement and nature.

Ellie
Saturday Workshops
Online learning is supplemented with practical workshops the first Saturday of each month
Learn more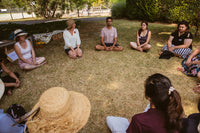 Developing Quality Early Childhood Educators
We are dedicated to supporting the VET and Early Childhood sectors in Melbourne and Central Victoria through:
Quality Early Childhood teaching qualifications at Certificate III and Diploma level, Expert RTO consulting and advice services, and Personal & Business coaching and support.
Our Registered Training Organisation (RTO) consultants are on the ACPET Consultant and Advisor register to provide RTO compliance, help, advice, and management services to meet your new and existing RTO management requirements. We offer a number of solutions to RTO's seeking to gain registration, meet compliance, write learning and assessment strategies, and complete internal auditing within the AQTF framework. Our Industry Training Consultants have over 20 combined years within the community services sector with dominant experience in Employment Services and government contracts administration.